If a picture paints a thousand words...
Disclaimer: The latest photos are shown first. Photos for some days are missing because they're in my handphone, awaiting transfer. Also, i'm quite lazy to take photo of everything la. *sheepish grinz*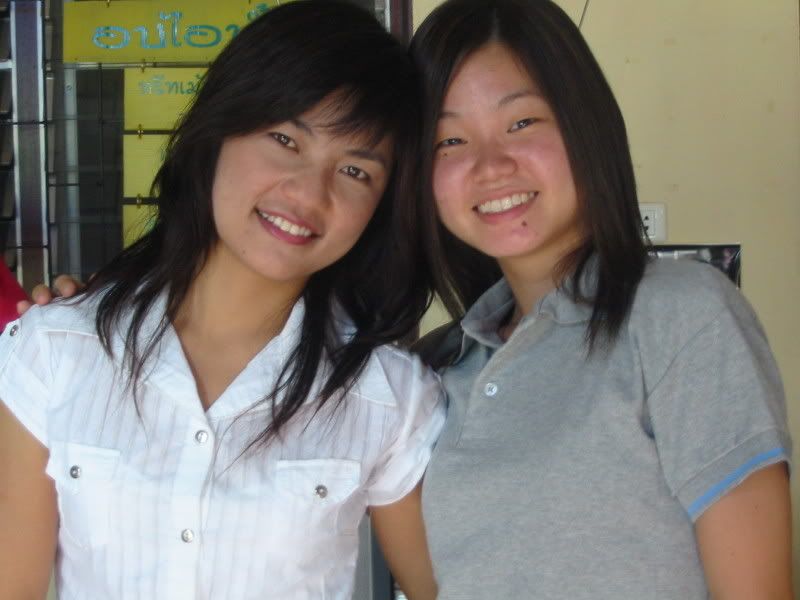 Fah, Lee's cousin and my host in Chiang Rai
She's one year older than me and already owns her own hairdressing salon! She rebonded my hair for me, nice? This was taken on the last day, after she washed my hair. Then we went to Big C, where she treated me to KFC. :'(

My last dinner in Chiang Rai
I
treated Fah, her boyfriend and Lee to dinner at the Ratanasokin Restaurant at the Chiang Rai Night Bazaar. They have really been very good host. I really enjoyed my stay with them and the dinner we prepared together at her house. :)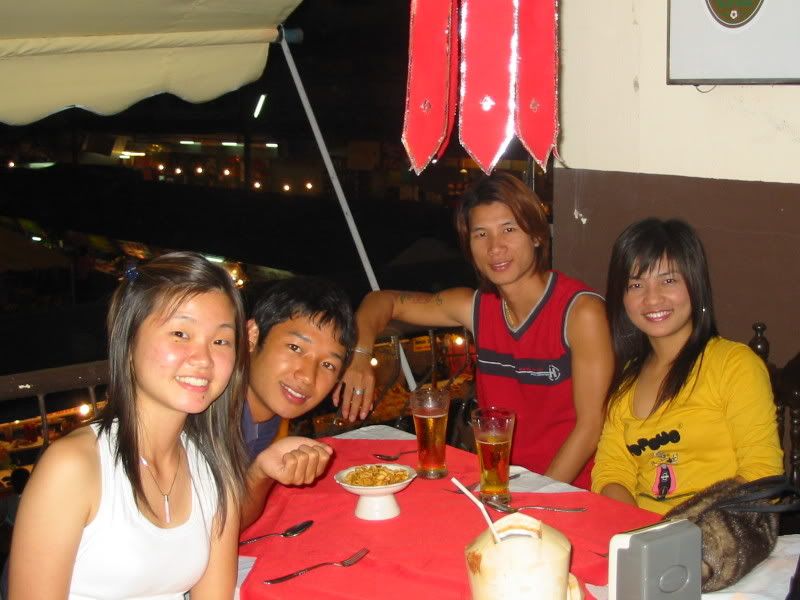 Group photo at Ratanasokin Restaurant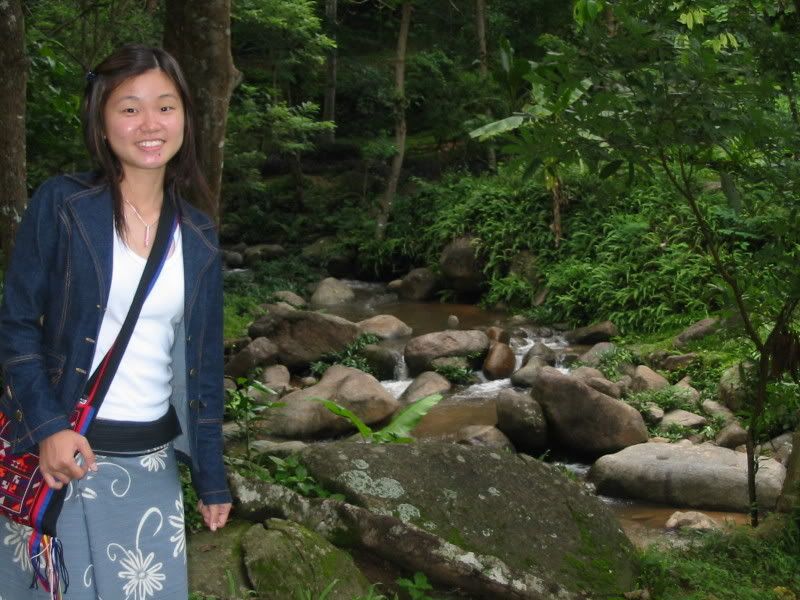 Nature Park near CRU
On my last day in Chiang Rai, Lee brought me shopping and visiting around Chiang Rai. There is a waterfall within this park, but it's quite a walk in and there are lots of insects (i'm still itching from the bites), so we stopped at the rapids.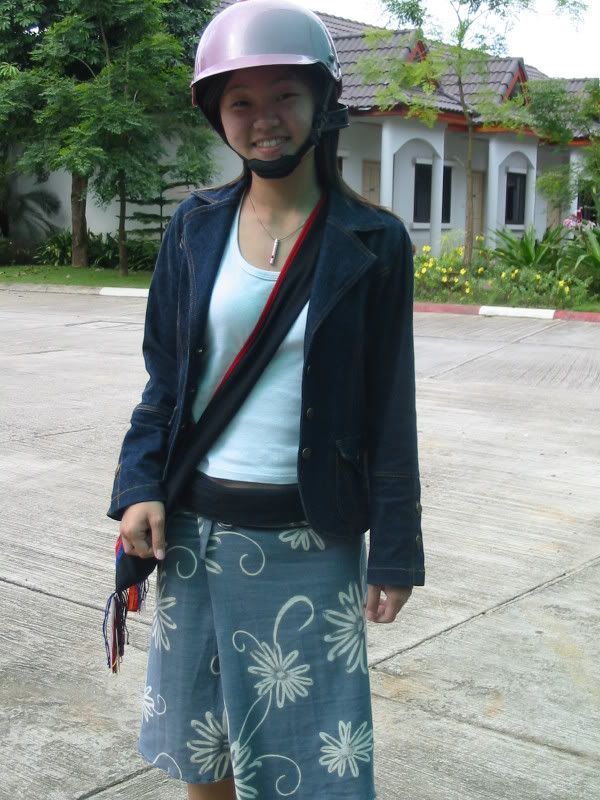 Do i look like a biker?
Many thanks to Lee's friend for loaning us his bike for so many days... and to Lee also, for driving me around on the bike. It's a much better way to see and feel Chiang Rai, compared to air-conditioned tourist coaches.
Latna muu (pork)
This is the latna (something like hor fun) that i've been craving for since i came back from Fieldstudies. Wah! Super difficult to eat at this stall. It's either closing, closed or raining heavily. But i managed to eat it twice. :)
White Temple
On the way back to Chiang Rai from Ban Mae Jantai, Lee's village, we stopped to visit the White Temple. Apparently the architect has alot of character. He wants to take his time to complete the temple and wouldn't accept large amounts of donation. Instead, he wants many small donations. We happened to meet him at the temple, but my camera ran out of battery...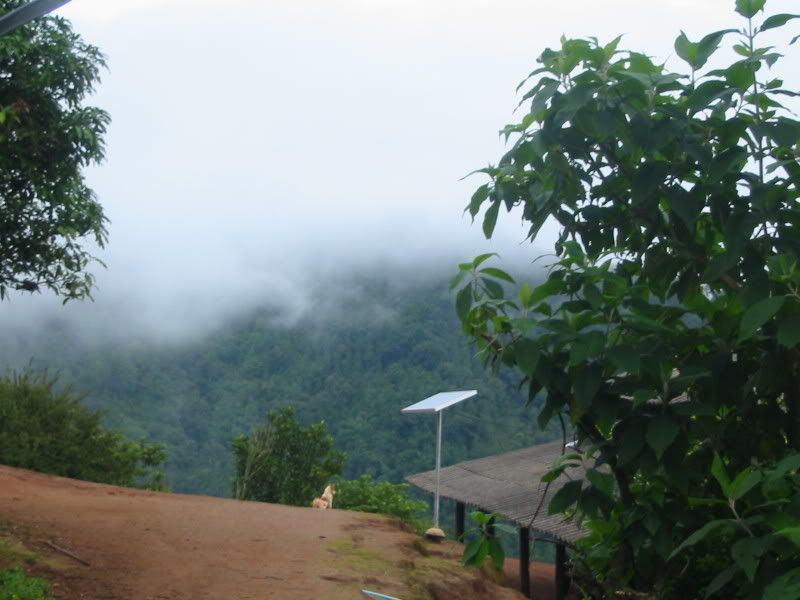 The Line of the Mist
"The Line of the Mist" is the name of Lee's house and this is the view. Can you see the line? Oh, that's a solar panel in the picture.. part of an overseas volunteer project.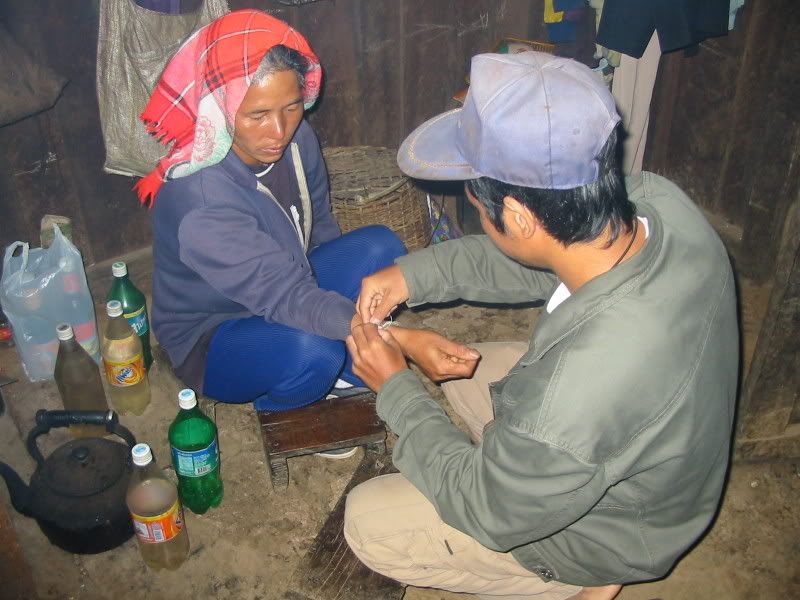 Akha Blessing
On the morning before we left the village, Lee's mum woke up early to cook breakfast for us. Then she tied a white string around our wrist and blessed us in Akha. The photo shows Lee returning the blessing to his mum.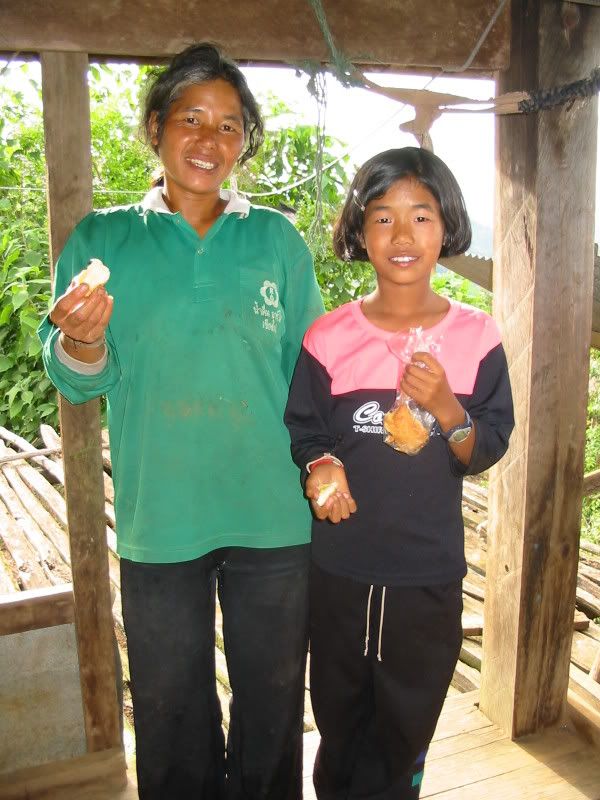 Lee's mum and sister
Wow! I think Lee, his mum and sister all look like each other!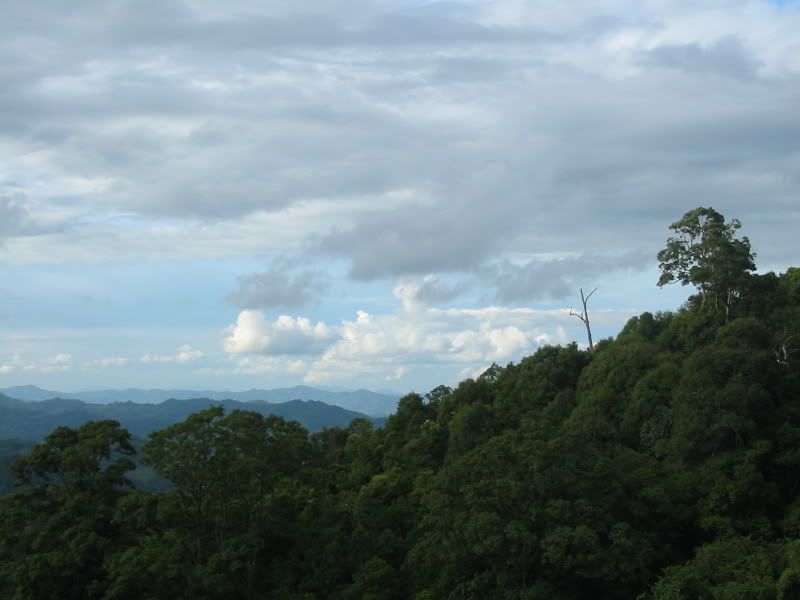 The view
This is how the sky looks like at Lee's house. I'm in love with the beauty of Ban Mae Jan Tai.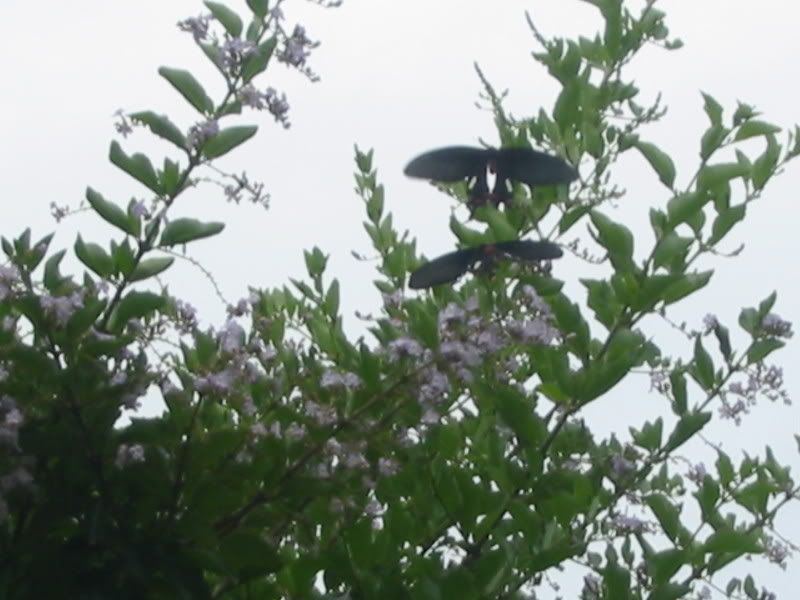 Butterflies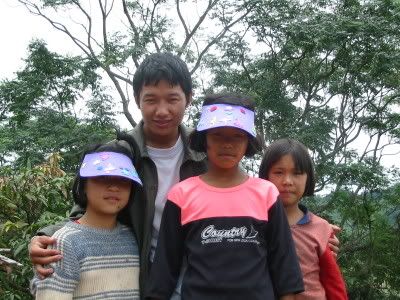 Lee with his cousins and sister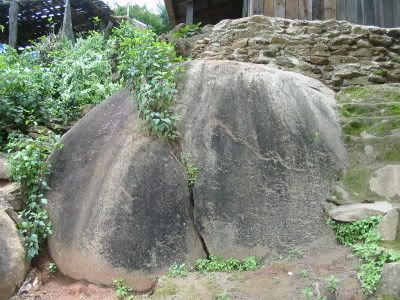 Biological weathering
I think i'm a physical geographer at heart. :)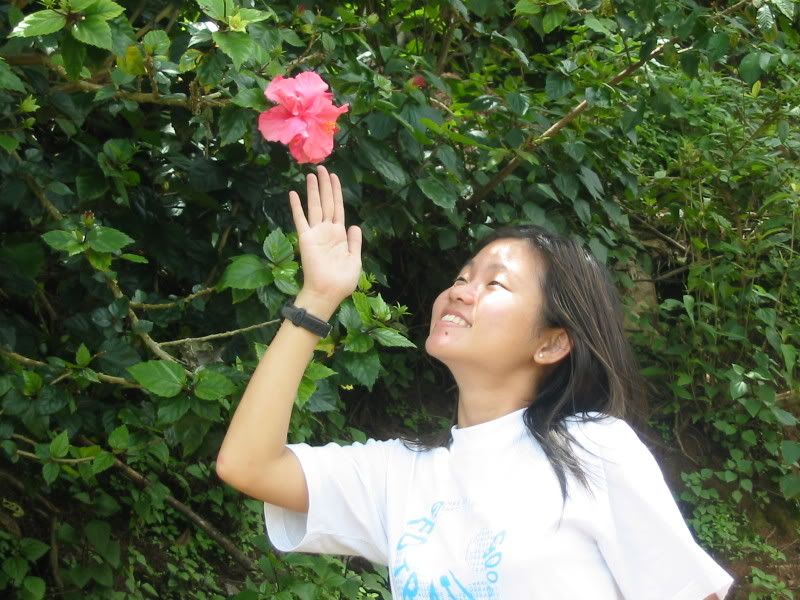 See! What a beautiful flower!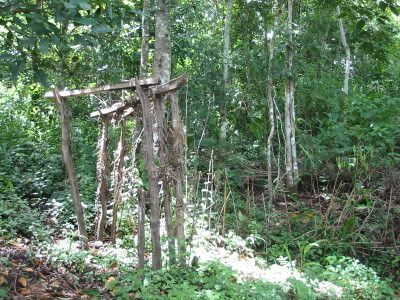 The Sacred Gate
Test for the fieldstudies people: How many years have the village been at its present location?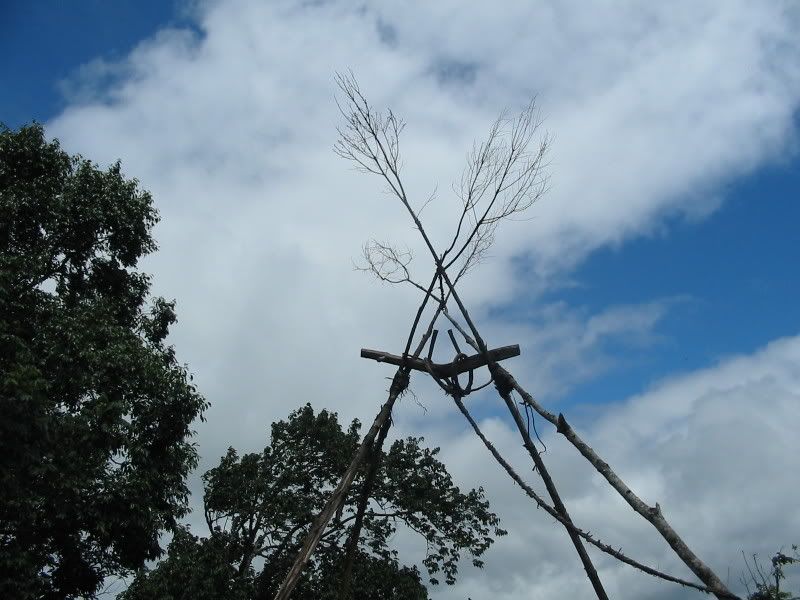 Akha Swing
The Akha Swing is the trademark of all Akha villages. I was told that the villagers hope the Swing Festival will be on 7th August this year, but it's not confirmed, so i didn't extend my trip to stay for the Festival. Oh well, maybe next time. In Dec, i shall return for the Akha New Year! :)
Aryu Juepa AKA "Lee"
My friend, host, translator, research assistant and aajarn for Thai and Akha language. khawp khun mak mak! My research wouldn't be possible without you! :)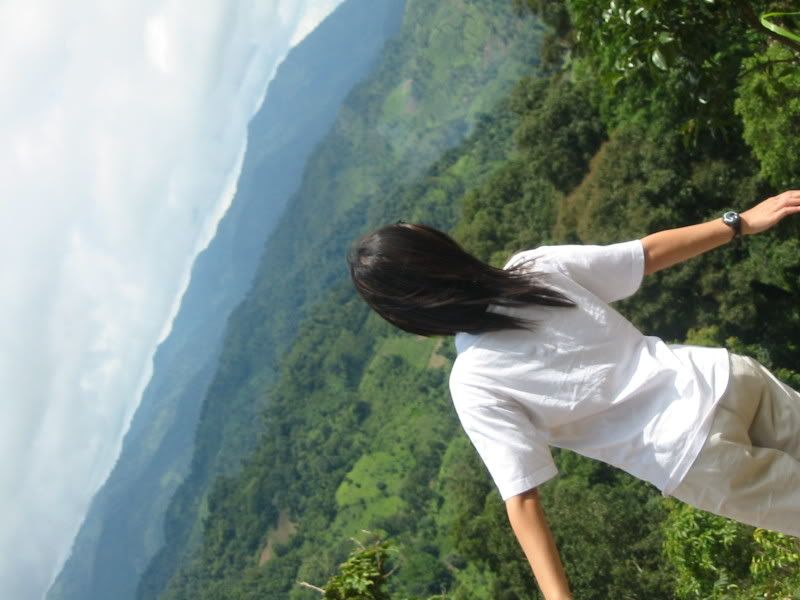 I'm flying!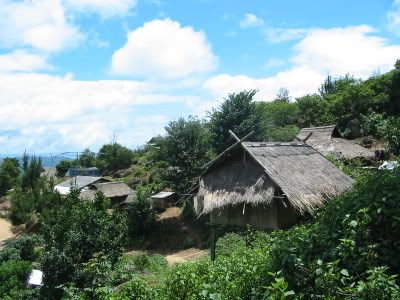 Ban Mae Jan Tai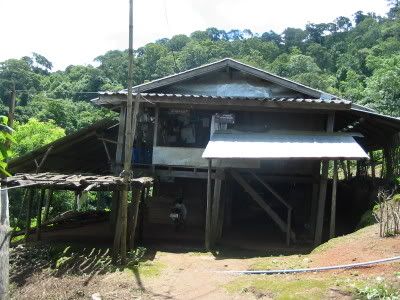 Lee's house
I stayed 2 nights at his house and this is where i touched cats for the first time! It's difficult not to touch them because they keep brushing against my legs and their fur is very very soft! :)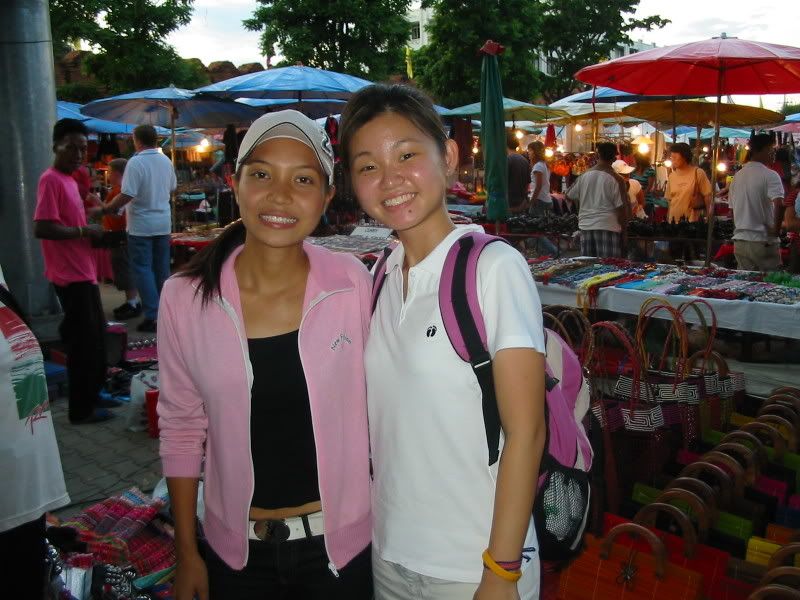 Fern - My new friend
We met her while conducting interviews at the Sunday Night Market in Chiang Rai. She speaks English, attended Lee's camp before and is going to work in England next year.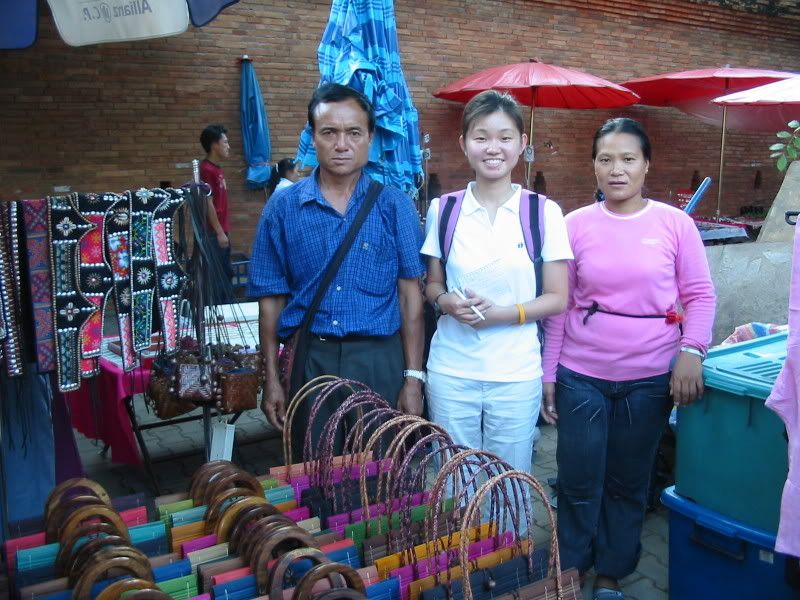 Interview with Akha stall owners at Sunday Night Market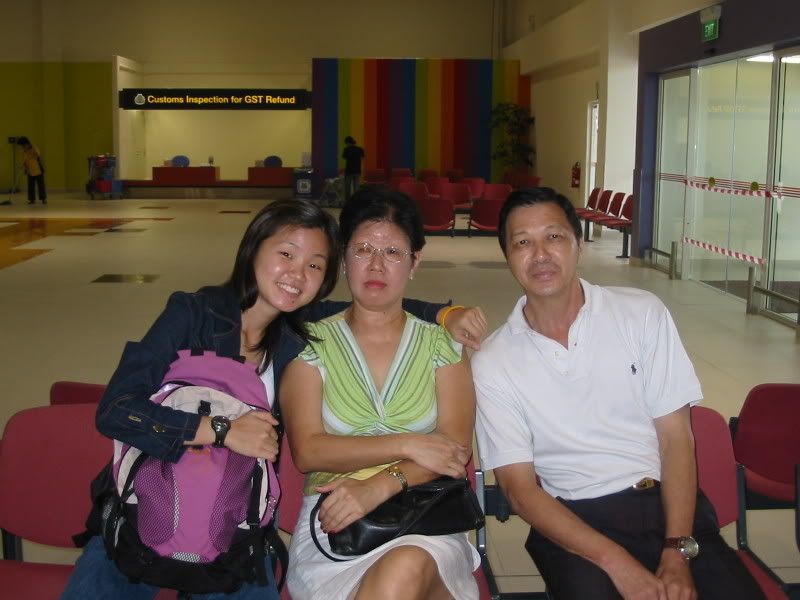 My parents sending me off at the airport
My mum cried and the immigration officer asked me if is was going abroad to study... ha!
... then can you tell that i really had a good time in Thailand?
I must say that i'm really glad that i went for fieldstudies, because it has changed my perception of Thailand. And i hope that through my photos and stories of kindness in Thailand, my family and friends will know Thailand as a place with smiles and friendship everywhere. My interviewees showered me with gifts even though i was "obstructing" their business. Can you imagine the same thing happening in Singapore?
Thank you, Lee
Thank you, Fah and boyfriend
Thank you to the villagers of Ban Mae Jan Tai
Thank you to all the Akha people we interviewed